Editor's Note: "Where's Dwight?" you may be asking. "That guy sucks." Good question. We will ritualistically Cleveland steam Dwight Howard, our Miss Guy of the Year, next week.
Diss Guy: Antawn Jamison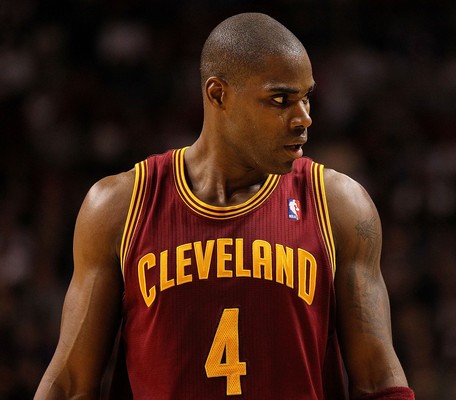 One of the perverse pleasures of being both a fan of a poorly run team and a liberated fan of various individual players is that I can admire players that I enjoyed on my bad team as they succeed on other teams, and achieve the accolades they never would've approached on the shitty team where their efforts were largely wasted. One of those players is Antawn Jamison, who spent his first five seasons with my hapless Warriors. With memories like
these
, Jamison quickly helped me forget the early blather that he was the short straw in the
Vince Carter draft day trade
, and became one of my favorite Warriors, and players in general. Of course we didn't keep him, and that was okay, because he had done his time. He went on to win the Sixth Man award in Dallas, became a two-type All-Star in Washington, and was acquired as a key stretch forward for a title run in Cleveland. Of course, none of these things
really
worked
out
in the long term, but Jamison stayed classy and professional throughout. And what's more is the dude can still play. Last season -- his
fourteenth --
Jamison averaged 17 and 6 for a rebuilding Cavs squad. His quirky-ass post game is still slick, and he just seems like a smart, thoughtful dude. Hat's off to you, Antawn Jamison, Diss guy.
But really, did you have sign with...
Miss Guy: Antawn Jamison
Sure, Antawn's a free agent, and has the right to sign wherever he wants. He entertained offers to be a steady veteran presence on rebuilding clubs like the Warriors or the Bobcats, but listened more closely to overtures from contenders like the Heat, Celtics and Lakers. In the end, he took far less money to chase a championship in Los Angeles with Steve Nash and, in all likelihood, Dwight Howard. And even if they don't get Dwight, they've now put together this 1998 Bulls-esque team with an average age well over 30. Jamison will join some combination of Pau, Bynum or Dwight up front, with Kobe and Nash in the backcourt. Or, he'll come off the bench and deliver excellent minutes for a team that could use more offense in general. Again, like all of these weird
"retool with experience, not with athleticism"
moves that we've been seeing, it's really a good fit.
And yeah. I understand ring-chasing. But seriously. The Lakers?
It amazes me that the most conspiracy-bent fans in the league are Lakers fans, who feel that David Stern is continually out to get them. Yeah, them, and all seventeen of their championships. Let's look at the quality players that have worn the purple and gold since 2000 who aren't named Kobe Bryant or Shaquille O'Neal: Karl Malone, Gary Payton, Lamar Odom, Pau Gasol, Steve Nash. And they had Chris Paul (briefly), and look like they're gonna land Dwight. And they think Stern's out to get them?
Again, I understand ring-chasing. But seriously. The Lakers? Bad form.