Diss Guy: David Kahn
Summers don't always tend to be David Kahn's time to shine. There was that summer of 2009, when he went point guard crazy,
snagging two in the draft
(one of which was Ricky Rubio, but it took him two years to show up in the Twin Cities), signed two others as free agents, and hired the worst coach of all time. Then there was the summer of 2010, when he
pissed off Chris Webber by comparing him to Darko Milicic,
was a
bit too forthcoming about Michael Beasley's previous drug use on the radio
, then signed the aforementioned Darkosaurus to a
ridiculously undeserved contract.
Summer of 2011 went a little better; he managed to
drug and brainwash
hire Rick Adelman,
but still made some pretty
thick-headed signings.
This summer, Timberwolves superstar Kevin Love, feeling self-conscious about his lack of playoff berths when comparing "career resume size" in the shower after Team USA practice,
put him on notice.
And how did Kahn respond to Kevin Love's whining? He turned Darko Milicic, Martell Webster, Wes Johnson and Wayne Ellington into
Brandon Roy,
Greg Stiemsma,
Chase Budinger,
Alexy Shved
and
Andrei Kirilenko.
Not a bad few weeks at the office. We've given Kahn some
lukewarm love
before, and if these signings work out, he's probably going to get some more. Way to figure out how to do summers, Dave.
- JG
Miss Guy: Rod Thorn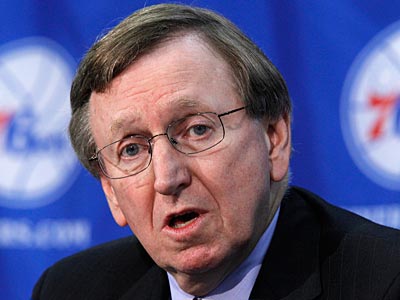 In an effort to keep basketball alive during the dead time between the end of the finals and beginning of the Olympics, I recently decided to conduct an experiment in which I would artificially manufacture the excitement and melodrama of the regular season. My genius plan was to refrain from as much contact with the basketball world as possible in the three weeks I would be cavorting abroad in Taiwan visiting family. I wouldn't log onto ESPN, read too many posts from the Diss, and seek news from the 76ers. What I wanted was to re-experience basketball when I returned the US—in essence, to create for myself a whole new basketball world, where no team was the same and the gossip completely fresh. Foolproof right?
Yes folks. You heard right. To make up for their weak front court and lack of offense, the 2012-2013 team will be
starting two centers
, one of whom is Kwame Brown complete with "small hands" and
"bona-fide scrub"-iness
(and that, my friends, is when he is healthy and playing).
This will not go well. There is no upside to this. It is like leaving for vacation and returning to discover that Rod Thorn had shat on your pillows and Doug Collins your sheets. Not cool guys. Not cool.
- Symbol Lai (SL)