April 20, 2012
Dear Reggie Miller,
Hello. My name is Jacob Greenberg. I'm 26 and live in Seattle. And I used to hate you.
Look, I'm sorry. I don't mean to put it so bluntly. But I used to hate you. I didn't really have a choice. Everyone hated you. Everyone. I was no different. But I'm here to let you know that I'm sorry, and I was wrong.
I realize now that you were great at the wrong time. I am a product of the Jordan generation, a child born and raised in a Jordan house. You were one of a cast of super villains that would appear on NBC on Sunday, hellbent on defeating my beloved Chicago Bulls. It would happen, too. You'd beat them. And when that'd happen, everyone in my home would boo and hiss you, your team, your far flung midwestern city, and your strange "Fieldhouse" filled with hickish looking fans. The Pacers couldn't be loved in a Bulls house during the Reign of the G.O.A.T. I mean, the man starred in a movie with Bugs Bunny, for heaven's sake. There was no way you were going to win.
You were the quintessential super villain in the Jordan years; a veritable Snidely Whiplash to the NBA's Dudley Do Right. Jordan's grace and athleticism stood in start contrast to your shiftiness and fecklessness. While Jordan would lure opponents to sleep with his one-on-one moves, and cause defenses to collapse with his slashing, you would prowl the outside like a sniper, and charge through screens like a phalanx. Both you and Jordan would square up your opponents from outside the arc, but while Jordan sized up his defender, you dressed yours down. You'd swing your elbows to-and-fro, clearing space to make a move. Sometimes you'd use a surprisingly quick first step to drive to the hoop, crash into some bodies, and flip the ball in the basket. Most of the time, though, you'd make a lateral move, and hoist up a deep three, that right leg flailing in a bid for a foul. You were unguardable. You were unlovable.
However, as one of my crossover stars -- players whom I watched in both my fledgling and fully formed NBA fanhoods, and whose careers I observed from prime to pasture -- my opinion of you changed with age. I'm not sure when it happened. It might have been the 2000 Finals, when you bravely lead your Pacers into certain defeat against a surging Lakers team. I was 15 at the time, struggling in high school and attempting to find an escape in professional basketball. I identified with the Pacers that season -- a team filled with veterans that had figured out how to win despite a dearth of athletic talent. You headlined a crew that featured Mark Jackson, Dale Davis, and Rik Smits. It looked hopeless against the Lakers -- Shaq was out of his mind that year -- but no one told you guys that. You didn't give a shit. You took it to Kobe and made Rick Fox look the fool. Neither you nor the Pacers cared that it was the Lakers. If you suspected that this was your only chance to win a ring, you never let on to that fact. I respected that. I think we all did. We certainly felt bad when you guys lost.
After that run, it seemed like the focus slowly turned to other younger Pacers. Jalen Rose had a turn as Pacers franchise player. After that, Jermaine O'Neal and Ron Artest got turns being the Pacers primary faces. None of them could live up to you. None of them even got close. Jalen Rose wasn't that good at basketball without you -- a small forward in denial that he couldn't be the point guard he was in college. Jermaine O'Neal turned out to be rickety and perishable. Ron Artest's mental health issues came to the forefront in ugly ways. No one could replicate your stage presence and skill set. I realized that there was only going to be one Reggie, and that things were going to be very different when you were gone.
During the last part of your career, the NBA became a much different place. The Malice at the Palace marked the end of personality and performance in the NBA, and over time, displays of emotion were frowned upon (and often subject to fine). Players like Malone and Payton got quieter as they got older, and guys like Steph Marbury, Antoine Walker and Steve Francis showed that brashness and bravado only took you as far as your own skills could (which is why Walker and Francis are both penniless). In the wake of Reggie, we were left with LeBron, Melo, Dwayne and Dwight -- brand names that are, at times, more concerned about long term marketability off the court than creating a dramatic and memorable scene on the court.
I realize now, Reggie, that you were the NBA's premier super villain. You stayed in the same city your entire career, a small market team that constantly had to compete against larger markets, first in New York and Chicago, later in Philadelphia and Detroit. All of your teammates adopted your personality -- stubborn, cold, calculated, hard pressed to give a fuck. You stood down to no one, including players that were more marketable, and fans that weren't terribly knowledgable. You won no championships, but really, that doesn't matter much. Hell, Adam Morrison's won two championships. I don't think they mean that much to him.
But most importantly -- you were an NBA super villain because of what you did on the court. Your most famous moment -- "8 points in 9 seconds" -- elevated you into Valhalla, an NBA immortal deserving of the finest virgins in the Norse afterlife. But that is only one of several moments that thrust you, willingly, into the role of dream-wrecker and playoff-ender. Today's NBA super villains aren't villainous because of things they do on the court. Rather, it's what they do off of it. The
Decisions
. The
Demands
. The
Deceptions
. These traits -- failures of a entrepreneur, not a professional basketball player -- vilify the individual. Not brilliant displays of craftiness and closure. That was your forte, Reggie.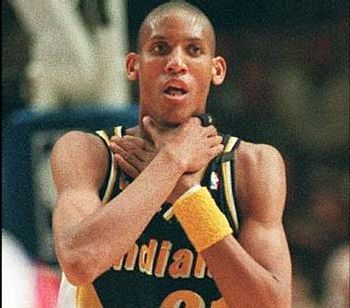 Reggie, you never walked that walk. You never talked that talk. There was never going to be a decision of whether you left Indiana for a warmer climate, or whether you were going to join forces with rivals in other cities to create a superteam. You wanted to break hearts in Indiana, to take no prisoners on your own. I used to hate that. Now I long for it. As strange as it sounds, I long for more Reggie Millers.
Begrudgingly, I admit: your career was a fortunate moment.
Congratulations on the Hall of Fame.
Sincerely yours,
Jacob Joseph Benjamin Greenberg