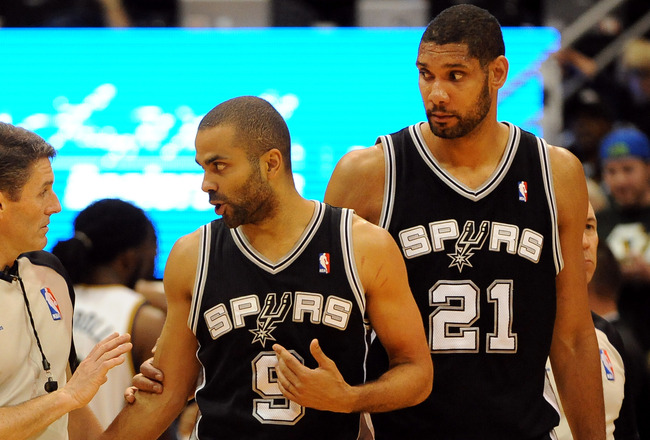 Being a fan of a bad team, I have always dreaded the playoffs, since they forced me to become a "fan" of a team that I didn't really know or like. Even worse, I would be-fan (think "befriend"; we're gonna roll with it) this team not because I actually liked their players, coaches, front office or city, but because they had the best chance of beating the team that I hated. Over the course of my life, teams from both the "hate" and "tolerate" columns have changed, and even switched sides. But the one constant -- the singular holdout, my tried and true playoff team -- has been the San Antonio Spurs.
Let me explain. I grew up in the North Bay, where there were few out-of-state transplants, but plenty of people who grew up in other parts of California. As such, sports allegiances were often split not just between Bay Area franchises, but also Northern Californian and Southern Californian franchises. Take my high school, for example. I would estimate that one-third of the school's NBA fans supported the Warriors, one-third supported some other NBA team, and the final third supported the Los Angeles Lakers. But given that the Lakers were good, and on TV a lot, they represented the most visible and vocal presence on campus. And my god, did it destroy me.
For most of those desperate years, I stood firmly behind the San Antonio Spurs. In 2002 I briefly flirted with the Sacramento Kings, but in 2000, 2001 and 2003, I bled black and silver from April until about May. It wasn't that I really liked those Spurs teams, or even was that interested in them. Tim Duncan was in his boringly brilliant prime, and David Robinson seemed like a really nice, if declining, guy. Tony and Manu were exciting young players (at the time), but never cracked into my "Top 10" or even "Top 20" list of favorite players. The supporting cast -- household names like Mario Elie, Bruce Bowen, Antonio Daniels, Derek Anderson, Jerome Kersey and Avery Johnson -- was never sexy or marketable. But year after year they trotted out excellent regular season teams that looked like they could compete -- and perhaps even defeat -- the hated Lakers. That in itself was enough to make me a fan, at least during the playoffs. I would cheer on the Spurs, pumping my fist when Tim Duncan hit a wildly exciting bank shot, shouting "yeah!" when Bruce Bowen sunk a corner three. I was not motivated to see them enjoy success, however. Nay, my point was to see the Lakers experience defeat, preferably at the hands of the Spurs.
Too bad the Spurs could never really do it while I really cared deeply about them. They were eliminated in 2000, 2001 and 2002 -- the 2001 and 2002 series coming at the hands of the Lakers. It was always painful to watch; the Spurs leaving the court with their heads down, the Lakers celebrating yet again. By 2003 though -- the year I graduated, and the year the Spurs won their second championship -- I wasn't watching a lot of basketball, and had generally become more comfortable with the fact that I was a fan of a bad team, and that didn't mean I had to fall in love with a playoff team to enjoy the tournament. But I do remember how happy I was to see Derek Fisher crying on the bench as his Lakers team fell to the Spurs in the Western Conference Finals. In many ways, the Spurs had saved the playoffs for me. I'm not sure I would be as big of a fan of the NBA as I am today had the Lakers won four championships in a row.
Nine years later, in 2012, I'm calling on the Spurs to save the playoffs for me yet again. After watching the Los Angeles Clippers dispatch the Memphis Grizzlies -- a team I actually would consider myself to be a fan of -- I have developed nothing but detest for that club. I haven't appreciated the leadership skills of their star players, Chris Paul and Blake Griffin. The organization seems to ooze smugness and entitlement, despite the fact that up until this year, they were THE CLIPPERS, aka, the worst franchise in sports. Granted, my hatred of the Clippers could really just a big bowl of sour grapes provided by a guy who's sad that his playoff team is out, and jealous that his non-playoff team didn't luck themselves into Blake Griffin, or have Chris Paul gifted by David Stern. But at the moment, they are my new Lakers. They are the team I feel passionately about in the NBA's Elite Eight -- passionate hatred.
Luckily, I can now back a Spurs team that has evolved and equipped itself for a nasty playoff fight. Stars Tony Parker, Tim Duncan and Manu Ginobili were able to rest throughout the regular season, which gave their supporting cast a chance to build cohesion and grow. GM-Coach (of the Year) tandem R.C. Buford and Gregg Popovich drafted smart (Kawhi Leonard), signed good, cheap free agents (Danny Green), acquired pennies-on-the-dollar stalwarts (Stephen Jackson and Boris Diaw), and invested in the right bench guys (Gary Neal, DeJuan Blair, Tiago Splitter and Matt Bonner). This is a fantastic team; one that has managed to retool and rebuild while giving their talented but heavily used stars a chance to rest and recoup. I hope that they dispatch the Clippers easily, but I think it will be a harder test than some might think. But the Spurs seem very good this year. Championship good, even.
So with the Grizz out, and the Warriors dead on arrival, I'm going for the Spurs, not just to win the series, but to win the whole thing. Old habits die hard, I guess.