In the many debates about the future development of the ever-rebuilding Golden State Warriors, no debate is as polarizing as Steph versus Monta. According to most pundits, our high scoring backcourt of point guard Steph Curry and off guard Monta Ellis
cannot be seen as a viable partnership moving forward
because of their highly similar games and statures. According to these experts, the Warriors backcourt is too reliant upon jump shots to carry an offense, and too small and light to effectively defend big guards like Kobe Bryant, LeBron James, and Dwayne Wade night in and night out.
It's been an interesting debate to watch unfold. While there are a number of respected basketball minds that have condemned the Warriors backcourt to failure, few of these presumed experts are known fans of the team, or at the very least, consistent observers. Indeed, most Warriors fans, the most knowledgable critics of the team,
are not as hellbent on trading
our two most talented and valuable players as everyone else seems to be. In the 120-or-so games that we've witnessed Steph and Monta play together, most Warriors fans have been excited about the quick handles, dynamic ball movement, deadly three pointers and acrobatic layups that the Curry-Ellis backcourt provide on a nightly basis. And while Steph and Monta give up height and weight to a lot of bigger guards, their scrappiness and determination lead to a number of deflected balls and steals. When watching the Warriors backcourt operate, one isn't immediately presented with a scenario that screams,
Man, someone oughta trade one of these guys.
Instead, we're presented with two young, talented guards who have complimentary, even comparable skill sets. Their futures, at least superficially, do not seem to be mutually exclusive.
But this sucks to see.
Since the summer of 2010, Steph has struggled with a high ankle sprain he suffered while playing for Team USA at the FIBA World Basketball Championships. He played injured all last season, and though his numbers were respectable, the ankle clearly hampered him all season long. Steph had surgery over the offseason, but it doesn't seem to have made much of a difference. Steph aggravated the injury during preseason, and again on Monday, December 26 against Chicago. Steph says we should be encouraged by the fact that he injured the ankle rolling his foot on Kyle Korver, and not by just standing around, or
planting his foot.
Great news, I guess?
If you're a Warriors fan, you're pretty used to injuries. Be it Jamison's ACL in 1999 and 2000 (and his inconspicuously pristine health following his 2003 trade from the Warriors), Danny Fortson's foot in 2000 (he was only
averaging 16 points and 16 rebounds per game
before he got injured six games into the season), Mookie Blaylock's entire Warriors career, or most recently,
Monta's infamous moped incident,
the Warriors have had to manage more than their share of injures over the last decade or so. Unsurprisingly, this season has been no different. The Warriors' "Big Three" (bleh) of Steph Curry, Monta Ellis and David Lee have only shared the court for seven quarters this entire season. Each player has missed at least one game due to an injury or ailment.
But there's something distinctly sinister about Steph's increasingly troublesome ankle. In recent years, persistently serious health issues that seem exacerbated by little-to-no activity, treated repeatedly through surgery and rehabilitation, have curtailed -- or even ended -- a number of promising careers. Unfortunately, the list of victims is quite long. Grant Hill missed nearly four full seasons of basketball due to complications with his ankles, and although he has obtained some measure of vindication as the oldest player in the NBA (and a contributing one, at that -- think about it, dude was on the 1996 Dream Team) most experts agree that we were robbed of an exceptional talent in his
athletic prime.
The same goes for Tracy "T-Mac" McGrady, Grant Hill's running mate in Orlando, whose prime was shortened due to complications following multiple knee surgeries. Or we can look at Anfernee "Penny" Hardaway, another
talented guard
, and also one of the first career-casualties due to microfracture knee surgery. But he's not the only one. Kenyon Martin is still a fairly productive player (
in China
), but he was never the same high-flying former #1 overall pick he was after microfracture surgeries to both his knees. Darius Miles, the 2000 third-overall pick in the draft, could never recover from microfracture surgeries to his own knees, and retired after a brief comeback attempt with the Memphis Grizzlies in 2008. And of course, we all must confront a potential Trailblazers dynasty that never was, and likely never will be, felled by Brandon Roy's
cartilage-less knees
and Greg Oden's veritable harvest cornucopia of
knee injuries and rehab setbacks.
Yea verily, the Good Game will giveth, but the Good Game will also taketh away.
Recent Warriors history has given me little reason to see the glass as half full. I won't repeat the tired old lament of a shafted Warriors fan -- if
x
hadn't gotten injured, or in 1996 we had drafted
y1
with the eleventh pick instead of
y2
, or
z
hadn't been allowed to walk due to shoddy front office management -- but my gut tells me that Steph is now damaged goods. Within the Warriors organization, becoming damaged goods goes beyond persistent injuries, or character issues. Damaged goods is a state of mind. Damaged goods is a state of being.
When a talented Warriors player becomes damaged goods, they conduct themselves like a player who knows they're talented, but it doesn't matter, because the team is going to lose anyways. There's a certain script that's followed, a sort of
danse macabre
that's performed in front of a sickened audience. I saw it happen in person, on Christmas Day, while the Warriors were playing the Los Angeles Clippers at Oracle Arena in front of a national television audience. With the Warriors down nine early in the fourth quarter, and desperately fighting to stay in the game, Klay Thompson drew what looked to be a charge on Caron Butler. The refs called it a block, and the Clippers got the ball back, and quickly hit a three. Down 12, and with the crowd and team deflated, Steph dribbled the ball upcourt, stepped two feet in front of the three-point line, and hoisted up a shot with 19 seconds left on the shot clock. The ball clanked off the rim, and into the waiting hands of Chris Paul, who was streaking towards his basket before the Warriors could even remember that they're paid good money to play transition defense. He found Mo Williams behind the arc on the left side, who calmly sized up a wide open three, and drained it. Fifteen point game. Timeout called. Livid crowd. A non-plussed Steph ambling back to the bench. And in all the brouhaha, my opinion of Stephen Curry changed forever.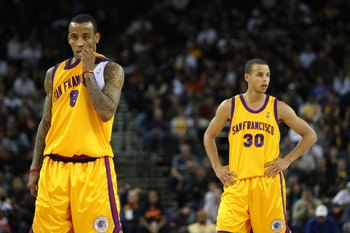 In the debate of who to trade, Steph or Monta, most fans seem more willing to part with Monta. It's not really because either is much better than the other -- indeed, there are solid arguments for both players -- but to us, Steph presents a fresh face and an alternative for the future. Monta is amazingly talented. He can score and pass, get steals and play acceptable one-on-one defense, and can even run an offense if called upon to do so. Yet, he's quiet and reserved, and has never carried himself like someone who is particularly interested in being the vocal or emotional leader of the locker room. With Steph, there's another possibility. With Steph, there's the potential for a million-dollar-smile, only bested by a billion-dollar-jumpshot and a zillion-dollar-handle. With Steph, there's the potential for a Steve Nash-type point guard with a Reggie Miller-type stroke. With Steph, for the star-devoid and success-starved Warriors fan, there is a bright future.
But Steph is damaged goods. Yes, Steph is playing injured. But Steph is also playing lackadaisically. He's averaging
career lows
in every statistical category. Every. Single. One. He's hosting up stupid jumpers that aren't falling. He isn't passing the ball enough, and he's turning the ball over too much. It's hard to view this guy, at least at this point, as a legitimate future franchise player. The same could be said about Monta, and have been on multiple occasions. But rarely ever are these criticisms leveled at the guy who has been linked to trades for
Amar'e Stoudemire
,
Carmelo Anthony
and
Chris Paul
-- and withheld from all of them because he was "untouchable."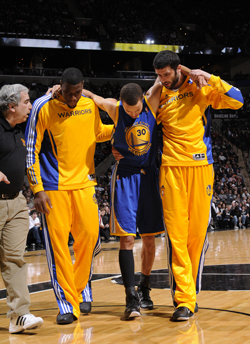 Well, no longer. It's time to see what we could get for Steph. This doesn't mean we trade him, necessarily. But we need to do our due diligence and see what type of steal we could get by lowering the odometer on that '91 Chrysler LeBaron, and maybe giving it a new paint job and some new car smell. Could a package centered around Steph land us Dwight Howard? Or, Deron Williams? I think either guy could be convinced to sign long term in the Bay by our revamped front office, but we have to get them here first. Steph may be the only guy on the roster with enough value to do it.
And further, it's time to make Monta our guy. We've never had one, or at least we haven't had one since we traded away
J-Rich on draft night for that stiff Brandan Wright.
Monta has been a professional since day one, and has made mistakes, but so have I, and so have you. He's our only remaining contributing piece since We Believe (you heard me, Biedrins), and he deserves to play here as long as he wishes to remain here. We're better off with him.
And in the end, we may be better off not worrying about damaged goods.