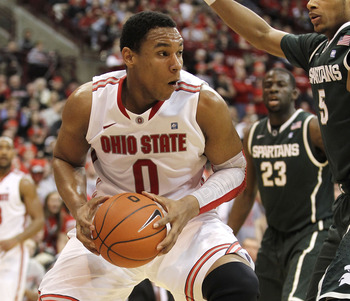 The Basics:
Jared Sullinger
3/4/92
C, Ohio State University (2 years)
Official Measurements (NBA Combine):
Height (with shoes): 6'9"
Weight: 268.2 lbs.
Wingspan: 7'1.25"
There's a lot to like about this strong kid out of THE Ohio State University. I'm going to dive into all of his strengths in a minute here, but I'm going to be very blunt and clear when I say that he is being significantly overvalued by most of the "experts."
But first the good.
Sullinger would have been a lottery pick (some projections had him as high as top-5) had he declared after his freshman year in Columbus. He was the number 1 ranked big man coming out of high school (number 2 overall) and put up good numbers (averaging 17 and 10) in a competitive Big-10 conference. In the age of the one-and-done sensations it's worth noting that Sullinger chose to come back to school for his sophomore year. He felt that he was not yet the complete player he wanted to be and had specific areas of his game he wanted to polish. While this may seem trivial to some people - I feel that it says something significant about his character and NBA development potential. Learning to be an efficient basketball player, especially a center, is an incredibly difficult task and it's drastically easier to learn at the collegiate level rather than being thrown to wolves and forced to survive.
Jared's primarily a back-to-the-basket scorer and anchored what was a very talented Buckeye team for the last 2 years. He used his size advantage effectively -
establishing deep position in the paint allowing his teammates to run their offense through him
. He is absolutely NOT an above the rim player but his soft touch didn't allow this to hinder his game much.
Sullinger's problem is that he's too small to guard an NBA 5 and not athletic enough to guard an NBA 4
. There's a lot a good player can do to become a great player but, as they say, you can't teach size. You can yell about wingspan all you want but at the end of the day he's going to be a 6'9" rookie matching up against 7' professionals.
And do you honestly think he can be as effective on the offensive side of the ball at the next level? Not likely. The best thing he can do for himself is to try and develop into a decent perimeter player and force teams to extend their defense. Kevin Love did it...but Sullinger is no Kevin Love.
Jared is a good kid, and probably will give a team decent minutes, but to me he's no top 10 pick.