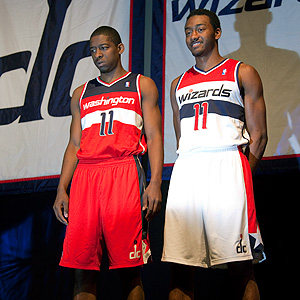 And we're off! Remember to check back daily for more SOTTs and Prospect bios and breakdowns.
If the 2012-13 season were to begin today, the Washington Wizards would start "NBA players" Jordan Crawford, Chris Singleton and Travis Booker. They also have no salary cap room. Uh-oh. But there are a couple of positives in the District. First off, they still have their amnesty, which they can use to shed Rashard Lewis' hideous, hideous contract. Secondly, AFTER this season they only have $27 million in committed money (assuming they hold on to John Wall), leaving them a ton of room to make a run at free agents. Finally, they have the number three pick in this year's draft.
So where do they need help? Frankly, pretty much everywhere. They're set at point guard with John Wall and center with Nene, but could use pretty much any good player in-between. Mostly, their decision comes down to what position Jan Veseley will play in the NBA. Veseley was the team's 2011 first round draft pick, and he showed a lot of promise last year while playing as a small forward. At 6'11" and 240 pounds, Veseley could easily play power forward if the team so decides.
Therefore, I see two good routes for the Wizards. The first is to take whoever they feel is the best shooting guard or small forward in the draft. But, the Wizards are so bad that just one pick won't solve their problems. If they sense that some team is itching to move up, it might be worth their while to explore options to trade the pick and get a couple of young players. The Wizard's won't be good next year, but there is a chance that they will soon be out of the funk that Gilbert Arenas' knee put them into.