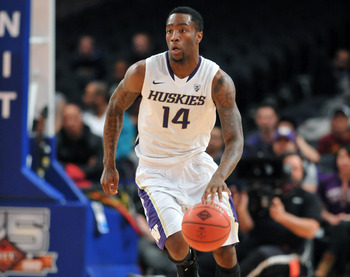 The Basics:
Tony Wroten Jr.
4/13/93
Point Guard, University of Washington (1 year)
Official Measurements from NBA Combine in Chicago
Height (with shoes): 6'6"
Weight: 203 lbs.
Wingspan: 6'9"
One of the eminent and rather fortuitous aspects of this relatively free-formed basketball collaboration we like to call The Diss is that all of our writers hail from different regions of the country. While we all maniacally watch, read about, and analyze as much hoops as we possibly can - having our writers dispersed around the nation gives us a nice localized approach to covering basketball. I know I'm not shocking anybody when I divulge the poorly kept secret that basketball played in the Pacific time zone tends to be put on the back burner by most of the major networks. Having recently relocated to the Midwest I now have a better understanding of this somewhat unavoidable problem, but it's still a tragedy nonetheless. Tony Wroten Jr. is a terrific talent and if you haven't had a chance to watch him play I'll try my best to fill you in.
As an Arizona fan I'm
thrilled
that Tony Wroten declared for the draft after his freshman year. As a basketball fan, and someone who wants to see him succeed in his basketball endeavors, I kind of wish he had stayed at U-Dub for one more year. Tony is a well-built, taller than average, 1 guard who drives the lane with immense force and creativity. He is at his best in ISOs and off the pick-and-roll which allow him to utilize his aggressive style of the play to get to the rim. His handles and court-vission allowed him to thrive at the point guard position in college, but he also has the size and defensive abilities to slide over and play the 2 guard if need be. He unfortunately has yet to break many of the poor habits that plague most young guards - turning it over more than you'd like to see and being susceptible to streakiness.
He also has some bigger and more glaring issues that need to be addressed. Mainly, he's a horrific perimeter shooter. How horrific, you ask? Well,
like only making only 9 of the 56 3-pointers he attempted last season, horrific
. The only positive way to spin that terrifying statistic is to remind you that even if a defender doesn't have to worry about him shooting, Wroten still has the quickness and athleticism to get by him and to the rack.
Speaking of getting to the rack -- take a peek at which hand Tony is dribbling with in the picture above. His left, right? Right. His left. Tony is left-hand dominant, and it would only take you about 2 minutes of watching his film to figure it out. He loves going left. When he's forced to go right, which most Pac-12 coaches tried to force him to do, he still tries to use his left hand to finish. One more season in Seattle would have given him the opportunity to work on that aspect of his game and drastically improved his stock.
His perimeter shooting woes and left-hand-preference aside, this kid has a really bright upside. He comes from a region known for producing quality guards and gained some valuable experience playing under Coach Romar in Seattle. His explosiveness could really aide a team that needs a spark off the bench and his size advantage at the point guard position could create some favorable mismatches. If he's able to improve upon his perimeter shooting, I don't think it would be crazy to imagine him turning into a James Harden type of guy. If he slips all the way down to 29 - I think Chicago might be a nice destination for him to land.