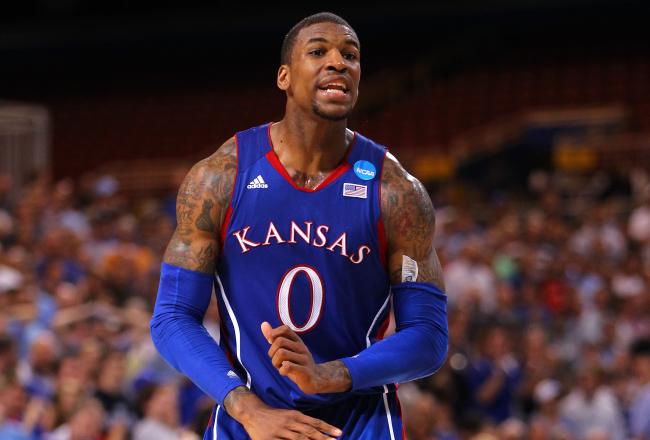 The Basics:
Thomas Robinson
3/17/91
Power Forward, University of Kansas (3 years)
Official Measurements from NBA Combine in Chicago
Height (with shoes): 6'8.75"
Weight: 244.2 lbs.
Wingspan: 7'3.25"
To start things off I want to point out something that we tend to overlook. Take a look at T-Rob in that picture above. Google image search (safe search on!) his name. The dude is HUGE. His shoulders are enormous and his frame is built and full. When you're looking to draft a kid that you're counting on seeing production from right away - having that player be physically ready is profoundly crucial.
While I never had to question whether T-Rob had the physical tools to be successful at the next level I did have to question his maturity. During his freshman campaign, in which Robinson saw limited minutes due to the success of the older Morris twins, Robinson appeared very raw and seemed to be running his mouth a bit too much for my taste. I meant to include this earlier in the series when I was writing about Jared Sullinger but
I'm always weary about players who choose to wear the number 0.
Credit Coach Self, Danny Manning, and the Morris twins for harnessing the raw talent in this kid and polishing him up into an NBA prospect with a ton of promise. KU is historically one of the best college programs in the nation so it took until T-Rob's junior year for him to finally be THE guy on the team. Under the spotlight Robinson shined finishing the season averaging 17.7 PPG on over 50% shooting from the field and beyond the arc. He also averaged just under 12 boards a game and had active hands disrupting the passing lanes and causing turnovers often.
Robinson primarily needs to focus on improving his offensive game, because unlike last year when KU built their offense around getting him touches in the paint, he's going to have to work a lot harder to earn it at the next level. He seems more comfortable with his back to the basket right now - which isn't necessarily a bad thing - but he's going to have improve on his face up game. While T-Rob obviously still has some learning to do I'd much rather take a guy who has the defensive instincts and teach him offense as opposed to taking a scorer and trying to teach him defense.
I'm going to go out on a limb here and predict that because I feel he's the most NBA ready
right now
- T-Rob will be the 2013 ROY.
Here's a highlight reel of him beastin
.