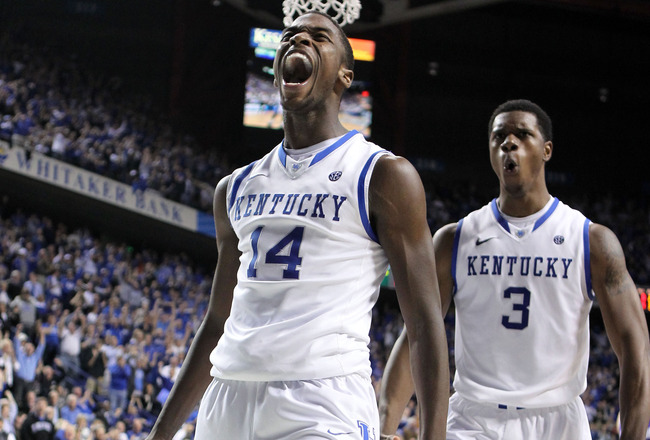 The Basics
:
Michael Kidd-Gilchrist
9/26/93
Small Forward, University of Kentucky (1 year)
Official measurements from NBA Combine in Chicago
:
Height (with shoes): 6'7.5"
Weight: 232.8 lbs.
Wingspan: 7'0
Michael Kidd-Gilchrist is the single hardest working prospect in this year's draft. This is an absolutely inarguable fact. While most of these player bios will focus on specific statistics or clips demonstrating the prospect's basketball skill set I wanted to start off MKG's by explaining that his drive and will to win are unmatched in this pool of young talent.
People seem to forget that it was MKG, not Anthony Davis, who was considered the best piece of Calipari's stellar recruiting class from last year. It would be criminal not remind everyone that this UK team stormed through the regular and post season bringing home yet another banner to Rupp Arena. Despite your personal views towards Coach Cal, there is no denying that this team was utterly fantastic and MKG served as a star player as well as a real glue guy for the team.
While I don't think MKG will ever turn into a number 1 go-to guy in any half court offense, he excels at
pushing the ball in transition
and always seems to find ways to score. His
shot is a bit funky looking
and it's pretty safe to say he won't develop into any sort of shooting specialist. He can post up fairly well when being guarded by the right matchup and more importantly has the basketball IQ to correctly identify when he should or should not attempt to. He gives you a ton of versatility on the defensive side of the ball - often matching up effectively against smaller guards or bigger forwards.
There are always a few players, 2nd rounders for the most part, who get drafted for their "glue-guy" skills/role player potential even though they may not have the most athletic ability or outright talent. DeJuan Blair comes to mind. Obviously MKG and Blair have different games but what they have in common is an understanding of spacing and position without having to have the ball in their hands. To put it simply: They know where they're supposed to be on the court. At the college level this leads to a tremendous amount of put-backs and offensive rebounds. At the next level these numbers will assuredly decrease due to the sheer size difference in the NBA, but it establishes that even if MKG doesn't become a star - he will always have some solid utility.