Utah's misfortune is sublime. Their misfortune is torturous consistency. It is a quietly soothing misfortune; one that is as comfortable as it is cautionary.
Now, Utah Jazz fans and observers alike would struggle to label the team as "unfortunate." Utah has historically won more games than it has lost (.545), and at the time of writing, boasts a 12-7 record, good for fifth in the hypercompetitive Western conference. The team has won eight division titles, as well as as two conference titles.
And whom do they have to thank for both their great fortune, and their wild misfortune?
You guessed it. Stockton and Malone.
******
I'm not going to write a lot about John Stockton and Karl Malone because, frankly, you don't want to read it.
You see, for the average NBA fan, the words "Stockton-to-Malone" conjure images that are far too simplistic for what these behemoths of professional basketball actually represent. For the average fan, "Stockton-to-Malone" represents short shorts and a black man in cowboy boots. "Stockton-to-Malone" means dirty players, known for
sharp elbows
, vicious screens, and mean dispositions. "Stockton-to-Malone" means pick and rolls, run to the ground. "Stockton-to-Malone" means predictably boring basketball that wins games, but bores national audiences
en masse.
Worry not. I am guilty of this line of thought as well. Like most of my peers, my sharpest memories of Stockton and Malone are from the 1997 and 1998 NBA finals. I was 12 in 1997, and my NBA universe was limited mostly to national games on NBC. I didn't care too much about the Western conference in the 90s, so I knew little about the Jazz. Honestly, I was surprised Salt Lake City had a franchise in the first place, and that they were named the "Jazz," despite the fact that their uniforms had mountains on them.
I loathed Stockton and Malone during those Finals series. They were deplorable characters. Stockton carried himself with a cold efficiency that seemed almost Gestapo-like. He fought through screens and drove into the lane with impunity, unfazed by the towering monoliths of Jordan and Pippen who hawked his every move. The Mailman, meanwhile, infuriated me, with his devastating post game and surprisingly effective mid range jumper confounding Bulls defenders left and right. Furthermore, his brute strength on the boards, and his tenacious, borderline dirty play caused me and my family to root for Dennis Rodman even harder (which wasn't that hard to do, let's be honest). I'm sure that motivated me, since Malone absolutely demolished Rodman in both Finals series.
However, I feel it is time to move on, and accept the sublime greatness of Stockton and Malone.
The Stockton-to-Malone years, in the end, were harmless. No championships were won; no mountainous dynasties were created around the Great Salt Lake. In the end, we are left to consider what Malone and Stockton were able to accomplish, both individually, and together as a team. It goes without saying that both Stockton and Malone boast amazing resumes from their professional careers. Both were late lottery picks from smaller schools, and both were merely expected to become role players. Instead, they became superstars that redefined their positions, and turned the Jazz into perennial powerhouses in the Western Conference. Their personal accolades are nearly unmatched. Between the two players, there are over 20 All-NBA First Team appearances, twenty all-star appearances, two scoring titles, eight assist titles, two steals titles, thousands of victories, one gold medal and one all-star MVP. Er, sorry, one all-star
co-MVP.
Moreover, Stockton and Malone, as players, as legends, established a culture in Salt Lake that exists to this very day. The pick and roll, run to perfection by Stockton, Malone, and longtime former head coach Jerry Sloan, remained a key part of the flex offense which was crafted to suit the needs of Deron Williams and Carlos Boozer for several seasons. Stockton and Malone's workhorse attitude continues to be a part of Jazz culture, even though those two players, and Jerry Sloan (whose influence and significance is certainly being under-appreciated in this analysis) now departed. As a result, the Jazz are a franchise with a winning culture. Players who choose to go to Utah, do so to win basketball games. And most of the time, they do just that. Stockton-to-Malone is a gift that keeps giving, long after their retirements.
That said, there is a caveat.
*****
For all of the accolades that we must appreciate about Stockton, Malone, and the Utah Jazz as a franchise, there is one massive strike: zero championships. Indeed, there is a dark clod to the Jazz's quiet consistency, both now, and in the Stockton-Malone years. The Jazz, at least since 1988, when Stockton and Malone were starting to emerge as stars, have been a team that could compete, but could never truly contend. Their record reflects this fact. 1997 and 1998 were pinnacle years for the Jazz, when the team won 64 and 62 games, respectively. But aside from those appearances, the Jazz consistently flamed out in the first and second rounds of the playoffs, losing to stronger teams from Los Angeles, Houston, Seattle and San Antonio.
Today's game is about maximizing talent. More than ever, players truly are assets -- movable pieces that can be freely exchanged to satisfy a bevy of wants, from improving an on-court products, to putting more warm butts in the seats (and money in an owner's pocket). Players are traded left and right, or come and go as free agents. General Managers take chances buying and selling, hedging bets regarding a player's development, the depth of a draft class, or the unseen value of an expiring contract. Rosters are constantly in flux, and franchise loyalty is mostly considered to be a relic from a more civilized age.
Yet, Stockton and Malone -- and the Utah Jazz -- stand as a peculiar example proving the contrary: that loyalty matters in the longue duree. Stockton played his entire eighteen year career in Utah, and Malone only decided to trophy-chase for a season with the Lakers after his longtime running mate retired. The Jazz, meanwhile, rewarded Stockton and Malone for their loyalty not just with nice contracts, but also quality teams. This is not the norm in today's NBA. We can consider: would a Stockton, or a Malone, given their talent, and marketability, remain in Utah in today's NBA? Would they bolt their small market franchise for greener pastures (or at least larger media markets)? Would a front office try and maximize talent, and trade one of them for a haul of lesser stars, prospects and picks?
Perhaps this is not a question worth asking. After all, the Jazz are consistent winners, mostly due to the efforts of the greatest big-small man combo ever to play in the NBA. While that combo, and the culture that combo established, has yet to yield a championship, it has yielded consistency and respect. With small market teams struggling, and the question of fan loyalty versus business solvency having tragic ramifications in cities like Vancouver, Seattle, and likely Sacramento, we cannot underestimate what Stockton and Malone mean to franchises like Utah.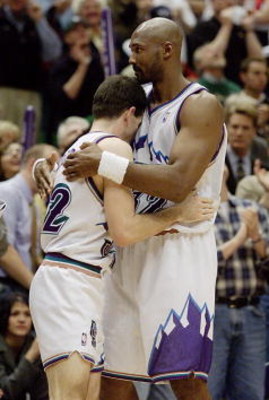 Even if it pains us, because Christ, I hate those guys.