The only lingering question I have from All-Star weekend: who is Kevin Hart? And why was he everywhere?
Anyways, back to the grind. This week's games features a rematch of the game of the year (thus far), the requisite dose of Linsanity, and our first tortured look at the Detroit Pistons. We couldn't avoid them forever. Anyways, let's get to it.
Monday: Antiques Roadshow: Pittsburgh (8:00 PM PST)
No games scheduled for Monday, and I don't have cable. However, I do get PBS. Antiques Roadshow it is! On tap for this week: "[a] correspondence between Kennedy family members and John F. Kennedy's former personal secretary; jade sapphire ring; 1946 oil painting by Rockwell Kent." Shucks, I was hoping someone found Heinz Ward in their basement. Jokes!
The last time these two teams met, a dramatic finish ensued, and
The Diss
went crazy with
wild guesses and outlandish speculation about the futures of Kevin Love, Darko Milicic and Ricky Rubio.
Even though Darko's star has fallen (while
Nikola Pekovic's has risen
) most of that excitement is still there. I, for one, am more than ready to see the two most popular power forwards in the game use their wildly divergent skill sets against each other in another clash of the titans. I'm interested to see how both Love and Griffin's numbers shape up over the next few months. Both players saw their stats drop significantly after All Star weekend last season. Whereas Griffin was averaging 23 points and 12.5 rebounds per game up until the All Star break, his numbers dropped to 21.9 and 11 afterwards. Similarly, Love, who was averaging 21 points and 15.5 rebounds pre-All Star break, saw his numbers fall to 17.5 and 14.4 rebounds post-All-Star break. He also missed nine games to injury. Hopefully these guys find a way to maintain their momentum and health for the rest of the regular season. This is especially important for Kevin Love, whose team will need him at tip-top shape if they hope to contend for one of the final playoff spots out West.
Wednesday: Chicago Bulls at San Antonio Spurs (6:00 PM PST)
While I'm not sure about the Chicago's chances at coming out of the East (the Heat look really, really,
really
good this season), I feel safer about San Antonio's passage out of the West. Simply put, these aren't your father's Spurs (or more appropriately, your older sibling's Spurs). According to
Basketball Reference
, the Spurs have the fourth best offense in the NBA at 99.3 points per game, and are still playing highly respectable defense with only 95.6 points per game allowed (16th in the league). Moreover, they're playing championship caliber ball while missing the talents of Manu Ginobili, Tiago Splitter, T.J. Ford for extended stretches. I'd give the Spurs the edge over the Thunder, as they have more than a few long, athletic wing players to check Durant on the wing. If these two teams happen to meet in the NBA finals, we will be treated to high scoring, dynamic point guard play, tough, mechanical defense, and probably the best coaching in the world. Probably a seven-game series, too. I wouldn't mind that. Would you?
Thursday: Oklahoma City Thunder at Orlando Magic (5:00 PM PST)
There are two schools of thought in the NBA on how to properly contend for a title. One school emphasizes the importance of a dominant big man to anchor a championship defense and provide easy, plentiful high percentage offense. The other school argues that a dominant (offensive) big man isn't as important as balanced scoring accentuated by the stellar play of one-to-two superstars, and fortified by a defensively minded pivot. Both schools of thought can reference a number of teams to support their theories. Big-men aficianados can point to the early 2000s Laker dynasty, the three-time-champion Spurs, the 2006 Heat, or the two-peat Rockets of the 1990s, to highlight the importance of a dominant offensive center. Superstar-by-committee supporters can counter with the 2004 Pistons, the 2011 Mavericks, the 2008 Celtics and, arguably, the two-peat Lakers of 2009 and 2010. Simply put: there is no skeleton key to the championship; it's all about your matchup. These two teams -- the pivot-based Magic, and the attack-from-all-angles Thunder -- present a classic matchup between two schools of thought.
Friday: Golden State Warriors at Philadelphia 76ers (5:00 PM PST)
Two underexposed clubs will share the bright lights of a national telecast on ESPN. Interestingly, both teams are playing at levels that belie their current standings. Despite the fact that they sit at 20-14, first in the Atlantic division and third overall in the East, the Sixers have gone 3-7 in their last ten, and have lost five straight overall. Meanwhile, the Warriors, who at 13-17 are third in the Pacific, and 12th overall in the West, have actually gone 5-5 in their last ten, and have won two straight overall. Their record could've been better had they not lost in OT to the Kings, nor blown leads to the Thunder and the Blazers. Both of these teams are basically locked into their respective destinies -- the Sixers are unlikely to miss the playoffs, and the Warriors are unlikely to make them -- but under the microscope of a national telecast, all of your strengths and weaknesses are amplified and broadcasted to a large television audience. It would behoove both of these clubs to win the game, if for no other reason than to intiate (or maintain) positive momentum going into the second half of the season.
Saturday: Detroit Pistons at Memphis Grizzlies (5:00 PM PST)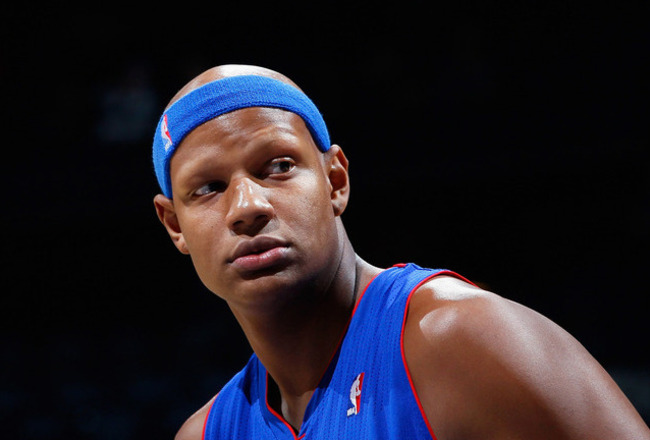 The Detroit Pistons are the only team I haven't picked for a game of the week since I started this feature. Why, you ask? Simple: they suck. Bad. They're a really, really bad team. They're bottom five in every meaningful statistical category, from offense, to defense, to assists, to steals, to wins produced, to...well, you get the idea. Lawrence Frank seemed like a decent choice to coach the team, but one suspects much of his success in New Jersey were due to the individual efforts of Jason Kidd and Vince Carter, both of whom were in their athletic primes. But there's honestly little LoFo could do to fix this bizarre roster. Most of their payroll is devoted veterans Tayshaun Prince, Ben Gordon and Charlie Villanueva, positional 'tweeners on the wrong side of 28, and not even full-time starters, to boot. Guards Brandon Knight and Rodney Stuckey put up nice numbers, but show no ability (or desire) to manage an offense. Their only bright spots on the entire roster is big man Greg Monroe, who's having a nice sophomore season with nearly 17 points and 10 rebounds per game, and veteran Ben Wallace, who is showing that loyalty means a lot, even in professional sports. Joe Dumars can look longingly at the Grizzlies, a small market team that built themselves into contenders through smart drafting, free agency and trading, and wonder where he went wrong with his formerly great franchise. The Pistons are truly a cautionary tale of how not to rebuild while attempting to contend at the same time.
Sunday: New York Knicks at Boston Celtics (10:00 AM PST)
When the NBA scheduled this double header on ABC, I think they visualized the Lakers/Heat game as the main event. But no one predicted Linsanity. This is an interesting game for a lot of reasons, but mostly because the Celtics, honestly, were the last team Jeremy Lin had a bad game against before the Miami contest this past Thursday. Let me refresh your memory. On Friday, February 3, the Knicks lost to the Celtics on national television, 91-89. At the time, the team had lost 11 of their last 13, and many postulated that Mike D'Antoni's days were numbered. Jeremy Lin played in that game, notching two points on 0-3 shooting, to go along with two rebounds, and assist, and a turnover. I watched that game with my friend Amanda. When he took the court that game, and played seven minutes of ineffective basketball, I said something to the effect of, "Wow, this guy looks worse than he did in Golden State." What a difference a month makes. Should be fun.