11:40 a.m. PST
Editor's Note: We inadvertantly omitted Omar's responses when this was first posted this, but they're now included below.
For this week's installment of Wild Speculation and Outlandish Guesses, we play an innovative game called "True or False".
Oklahoma City is too young and inexperienced to win the title this year.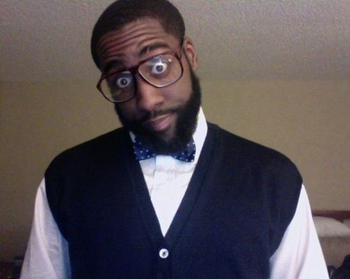 Is this hipster too hip to win a title?
Jacob Greenberg
: False. According to a
graph developed by Idris Raja at Data Dork
, most NBA championship teams are between the average ages of 27-29 (that is, in their primes). Additionally, Raja points out that dynasty teams, such as the 60s Celtics, the 80s Lakers and Celtics, the 90s Bulls, and the 00s Lakers, each got older after each season they won it, but most just aged between 26 and 28 yeas of age. In other words, they just got to a different point in their primes. The youngest ever championship team -- the 1977 Portland Trailblazers -- were 24.3 years old, on average. The next closest team? The 1966 Warriors, who were 25.7 years old. Right now, the Thunder are 25.4 years old. So if they won, they'd be the second youngest team ever to win it all. However, if they didn't win it this year, the stats would indicate that they have a much greater chance of winning it (and perhaps a few others) in the next 1-2 years.
Joe Bernardo
: False. The team went to the WCF last year so it's not like they're wet behind the ear in terms of playoff experience. I think their biggest hurdle in winning a title is not their youth, but rather their lack of an offensive post presence. When the game slows down come playoff time, I'm not sure the Durant/Westbrook/Harden one-on-one perimeter game is going to cut it during crunch time.
Alex Maki
: Definitely false. They have plenty of experience, including winning close games and playing in the postseason. At this point the Thunder are the favorites to take it all, with three dynamic scorers and a whole clutch of players willing to be nasty on defense. Thunder not only make it to the finals in the West, but they take a leisurely stroll there. The finals won't be quite so easy though...
Brian Benjamin
: False. They may not win the title this year but it won't be because of youth and inexperience. They're the most talented team in the West. And people forget that Scotty Brooks won a championship back in his playing days with Houston (Ok, Hakeem won that title for him but he was on the roster). He'll know what to tell his team when the time comes.
Omar Bagnied
: True. Earlier in the season I would've told you that the Thunder were a lock in the Finals, primarily because of young legs in a shortened season. While many shared that sentiment, they didn't realize that this meant that great, older teams like the Spurs weren't going to have to play as long a season. Last year the Spurs ran out of gas at around 88-89 games. This year that'll be enough to put them in the finals. People shouldn't sleep on Gary Neal and Tiago Splitter, they're great young pieces to complement Duncan, Ginobli, Jefferson and the crafty 29-year-old veteran Tony Parker who's "
out-skilled
" and
outperformed
the Thunder's Westbrook on a number of occasions this season.
With Billups out for the season in LA, it'll be Thunder-Spurs in the conference finals. And to answer the initial question, when "young" means that Kendrick Perkins is your veteran, then yes, you are too young. If they make it past the Spurs, both the Heat and Bulls have more talent, experience and veteran leadership to leave the them championshipless for at least another year. Durant has only taken 24 more shots than Westbrook in their first 34 games. That dynamic really has to change.
Nobody in the East can challenge Chicago and Miami.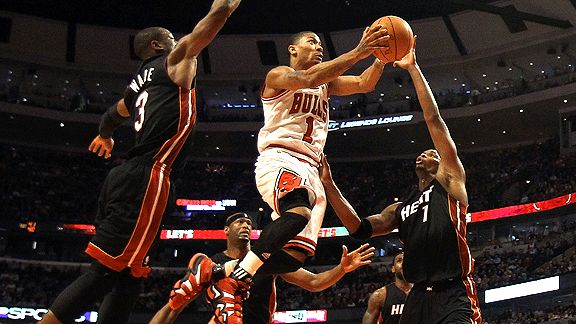 Will we see this 10 times a game come June?
Jacob Greenberg
: False. Both the Heat and the Bulls have impact players who have been unable to fully shake nagging injuries. Should either Wade or Rose enter the playoffs at less than 100% both of their teams are vulnerable. Moreover, I am of the opinion that the Orlando Magic, despite their drama, have all the pieces to topple the Heat or the Bulls. The 2009 Finals team has been reborn with a dominant Dwight and a new cast of lanky shooters. And even the Knicks could figure it out to an even greater degree than they already have, should Amar'e, Melo and, yup, Jeremy Lin all get on the same page. The East is more open than previously assumed.
Joe Bernardo
: True. As much as I want the Knicks to come and spoil the Chicago-Miami ECF party, I don't see it happening. The Bulls and Heat are way too talented and way to hungry to be bounced early in the playoffs. I think the Knicks, Pacers, and even 76ers will give both of these teams a run for their money, but it'll be the Windy City vs. South Beach Part II this year...even if Wade and Rose are limping down the lane.
Alex Maki
: False. I really dig what the Pacers and 76ers got going on. And I do think that either one of them could challenge either the Heat or Bulls. Now, I am not saying I would put money on either of them to make the finals. But I think the Pacers and 76ers have some great pieces, and could stay competitive in a 7 game series with the Beasts in the East.
Brian Benjamin
: True. They're the two best teams in the East. Too much defense from both of them. Scoring has always been there for the Heat and the Bull's supporting cast is more comfortable this year. Lebron is the best player on the planet and D-Rose might not be that far behind. Plenty of decent teams behind them but as my friend Stacy King likes to say they're just too big, too fast, too strong, too good.
Omar Bagnied
: Well they'll be challenged for sure. I think they'll be challenged by the Knicks once that team figures out how to play together. Lin, Melo, Amare, Chandler and Fields can challenge anyone. They also have one of the deepest benches in the league with JR Smith, Shumpert and Novak. But if we're talking about whether any other team will make the Eastern Conference finals, then no, no one has proved themselves more deserving of spots than the Heat and Bulls.
The Celtics will miss the playoffs.
The last time the Celtics missed the playoffs this guy got 24 games worth of run.
Jacob Greenberg
: True, as presently constructed. However, with the team playing this bad, I don't expect them to stay together much longer. But who do you get rid of? I can't imagine Garnett has much value anymore. Rondo could get you something, but probably not equal value. Ray Allen may be your most likely candidate, but he probably won't command an impact player in return. It appears Danny Ainge waited a year too long to break up the Big Three, and has missed out on the opportunity to rebuild while still contending. So the question is, what's next? Do the Celtics become the Spurs? Or the Pistons?
Joe Bernardo
: False. I think they have one more run left in them...to make it to the 8th seed. I think the team's pride will prevent them from even thinking about purposely tanking the rest of the season to get into lottery contention. Plus, they're experienced enough to give what it takes to make it to the playoffs. Will they get passed the first round? No way in hell. Of course, my answer goes out the window if they make a blockbuster trade (Rondo for Gasol, please?)...but that's the case with any of sports predictions, no?
Alex Maki
: Huh? If my high school basketball team was still balling, WE would have a chance at making the playoffs in the East. The only team not in the playoffs in the East right now that could actually make it is Cleveland. But I think those old farts in Boston pull it together and are able to secure a 7 or 8 seed.
Brian Benjamin
: False. This is not an endorsement of the Celtics but there is no way I'm endorsing the Cavs or Bucks to make the playoffs ahead of them.
Omar Bagnied
: We might have ourselves a 2010-2011 Seattle Seahawks scenario with this one. Who's going to beat out Boston for that final spot? Seriously. Go look at the standings right now and tell me who in the bottom tier will finish with a better record than Boston. I see Boston finishing at 31-35 or 32-34. The only two teams I'd say have any kind of a shot are Cleveland and New Jersey. Cleveland is one out at 9. I think it would be fantastic to see Cleveland v. Miami in the first round. Dan Gilbert's guarantee to deliver a championship to Cleveland before Miami grabs one, the circus that comes with Lebron going back to Cleveland. Even if Cleveland loses the series, if Kyrie Irving plays well I think he can start filling the void left there by Lebron. Overall it'll be much more interesting than a Boston-Miami series.
I also like New Jersey. Even though they're 13th at the half-way point, they have some really nice pieces. Deron Williams is a top 3 PG, both passing and scoring. Marshon Brooks is one of the best rookies out there. Kris Humphries is really underrated; he's one of only 10 players in the league averaging a double-double. And with Brook Lopez, a top center in the league, and Okur, a solid 3-point shooting big man, finally coming back they could make a run for the 8th spot. If Dwight Howard joins they'll lose some of the pieces, but my argument becomes even stronger.
Steve Nash will leave Phoenix before the trade deadline.
He is getting reeaallllyy bored of answering this question.
Jacob Greenberg
: False. I've begun to realize that Steve Nash doesn't define success in the same way as the media insists that we do. For most, championships define greatness, and of course, Steve Nash has zero championships. However, at age 38, Nash has two MVPs, remarkable accolades, a sterling reputation, essential command of an NBA franchise, and perhaps most importantly to him, a great group of teammates who enjoy being around each other. I think Nash retires a Sun.
Joe Bernardo
: False. If he were to leave the Suns, he would have done it (or at least made the trade demand) a while ago. The guy has way too much loyalty to the team, the city of Phoenix, and most importantly, the Suns' training staff. (Seriously, do they have a magic witch doctor on the payroll or something?? If Greg Oden ever gets to play a full season for the Suns I will be thoroughly convinced that Jesus Christ is disguised as the team's trainer!). Although his chance at winning a ring is slowly dissipating, I don't think he's the type of guy who will chase it during his twilight years.
Alex Maki
: False. I think he stays put. He seems to be a little more receptive to the idea of being moved right now, but I can't see too many playoff-bound teams that are going to be willing to move numerous pieces for a Steve Nash rental. It might happen, but Newton's laws of motion dictate that things at rest tend to stay at rest (I don't know what the fuck I am talking about). So no deal happens, because it would require some strong external force to bring it about. And I don't see that happening.
Brian Benjamin
: False. Steve Nash might be my favorite player to watch. He makes offense easy for everyone around him. Seeing him dance through the lane before sending a perfectly placed bounce pass to a cutting teammate is sublime. Too bad Phoenix won't free him. He deserves better.
Omar Bagnied
: False. As much as I'd like him to be traded to a better team, where would he go? There's talk about him
returning home to Canada
in a trade with Toronto for DeRozan...!!!!???!!! How tragic would that be?!! Quietly finishing his career on a team worse than Phoenix, without a shot at making a final run. I don't want to believe it. Even though Mario Chalmers has been playing better recently, I still want to see Nash in Miami. As slim a chance as there is that that happens, it's the only place I want to see him play come March 16th. Miami has some OK pieces in Norris Cole, Chalmers, James Jones, and a slew of young centers. They could throw in draft picks or even make it a multi-team deal. MAKE IT HAPPEN PAT RILEY!
Dwight Howard will leave Orlando before the trade deadline.
"Dwight Howard's Shoulders" is apparently
a very popular Google search term.
Jacob Greenberg
: Fuck, who cares? Each star who has eventually left the team that drafted them have presented a new move into the "Dick Ways to Fuck Over Your Former Team" playbook. From
The Decision
, to
The Dinner Party
, to
The Home(coming)-Wrecker
, to
The Stern Warning
, there is an endless supply of ways to set back a franchise for years (except if you're the Denver Nuggets). Dwight Howard seems to be perfecting
The Empty Promise
-- that is, calling the city you currently work in "my city and my home" before you leave without a care. In all honesty, I suspect Dwight hasn't actually decided what he's going to do. But the Magic would be wise to trade him now, and begin a new era in Orlando.
Joe Bernardo
: True. And it better be to my Lakers. =) I am pretty sure that Dwight will join forces with D. Will in Dallas if both aren't traded this season and Otis Smith will win idiot GM of the year if he let's Dwight go for nothing.
Alex Maki
: I, also, do not really care. Shaq wannabe is so played out at this point. I think he keeps his mouth shut and stays in Orlando until the end of the year. I can't imagine why anyone would even deal anything for him. They should all be trying to figure out ways to get Nikola Pekovic. He is the real deal. Screw superman rip-off tattoos. Real men these days have tattoos of barbarians atop pyramids of skulls.
Brian Benjamin
: True. Maybe. Ok, false. No wait, true. I have no idea. Orlando would be nuts to give away one of the best players in the NBA but they may be more crazy to watch him walk. I guess I'll have to wait an see like everyone else.
Omar Bagnied
: True. Orlando management would be stupid not to deal him before he became a free agent, in that scenario they'd get nothing. Nobody is coming to Orlando to help him out. He wasn't an especially visible host during All Star weekend. He could've squashed trade rumors by saying he was definitely staying in Orlando and dedicated to bringing them a championship. But he didn't. And this was his time to do it, with Orlando in the NBA's spotlight.
Dwight's already
fallen out of favor with his point guard
. Other teammates will begin resenting him as he mouths off to the media about how much better players in Dallas, LA and New Jersey are than them. Orlando, it's clear that Dwight Howard doesn't want to be on your team. Have some pride, let him go, bring in someone younger.