This edition of Games of the Week features both young up-and-comers against and old school contenders from days of yore. Who's 2 Legit 2 Quit?
Let's get to it.
Monday: Los Angeles Lakers at Philadelphia 76ers (4:00 PM PST)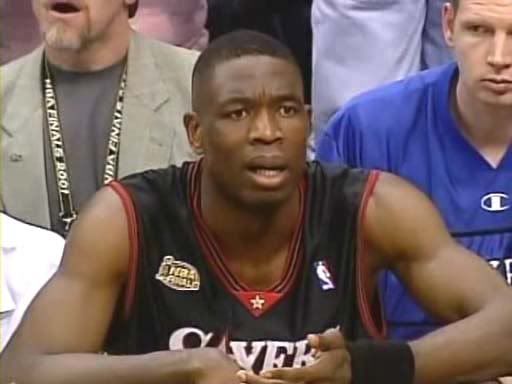 This rematch of the 2001 NBA finals features two teams that could again be contending this June. The Sixers are playing as well as anyone right now, having won seven of their last ten, with wins against Atlanta, Chicago and Orlando. They're also playing the best defense in the NBA, allowing an NBA-low 86 points per contest. However, they lost to Miami twice last week, but so have most other teams, so those will be used as learning experiences. The Lakers, meanwhile, are 5-5 in their last ten, but are looking more cohesive each day. Los Angeles is playing the fifth best defense in the league, and are eleventh in assists. Both Kobe and Bynum are All-Star starters, and the team is reportedly in negotiations to acquire Cleveland guard Ramon Sessions to provide immediate help for their backcourt. If the Sixers can win this game, they will officially be considered contenders in this abbreviated season.


In 2009, both the Warriors and the Thunder were rebuilding teams. The Thunder, who had just completed their first season in Oklahoma City, had won 23 games. The Warriors, who had dismantled their 48-win team from the previous season, had won 29. Both teams secured high draft picks, and picked wisely. The Thunder took James Harden third, and the Warriors took Steph Curry seventh. After that, however, the teams rebuilding paths diverged. The Thunder's front office concentrated on developing their draft picks and making smart trades, while at the same time, investing in their promising young coach Scott Brooks, who was an interim head coach up until that point. The Warriors, who had effectively given control of the franchise to mad scientist/useless drunk Don Nelson after the ouster of Chris Mullin, decided to go unorthodox, and use the Developmental League as the fastest way to respectability. Admittedly, this is because most of our free agents from the previous summer had gotten injured, but those free agents were Kelenna Azubuike and Ronny Turiaf. You can probably guess how the rest went. By the end of the 2009-2010 season, the Thunder were a 50 win team, and scaring the shit out of the eventual champs. Their draft picks -- Durant, Westbrook, and to an extent, Harden and Serge Ibaka -- were clearly on their way to big things. The Warriors? They won 26 games, three fewer than the season previous. The D-leaguers? Actually pretty decent. All playing for different teams.

No two rebuilding operations are alike, are they?


Wednesday: Los Angeles Clippers at Cleveland Cavaliers (4:00 PM PST)


Watch the Cavs. No, really. Watch the Cavs. It's worth it.

The Cavs are one of the few sub-.500 teams that are clearly growing into a surefire better team down the road (Toronto, Milwaukee, and perhaps Sacramento are the others). Though they're only 3-7 in their last 10, they went 2-2 last week, all against playoff teams. The main reason the Cavs have improved has been the play of Kyrie Irving, who is running away with the Rookie of the Year award. His season averages of 18 points, 5 assists, and 3.5 rebounds are comparable to Derrick Rose, who scored 17, 6 and 4 on a similarly skilled team his rookie season. I am excited to see how Irving matches up against CP3 and the Clips, who will likely be without starting shooting guard Chauncey Billups for quite some time with an achilles injury.


Thursday: Los Angeles Lakers at Boston Celtics (5:00 PM PST)


A rematch of the 2010 NBA finals. And the 2008 NBA finals. And the 1987 finals. And the 1985 finals. And the 1984 finals. And the...

Well, you get it. There's a bit of history between these two teams. And while the blood will certainly be bad between these two clubs, these are two veteran clubs entering periods of mandatory transition. The Lakers continue to find their way through the early days of the Mike Brown era, with results that could be described as mixed, at best. While Bynum and Kobe have flourished (Kobe mostly due to the fact that he just doesn't give a shit), Pau and Matt Barnes have struggled, and the bench has underperformed. Meanwhile, the Celtics have come alive recently, winning four straight games, including a magical comeback against the Knicks this past Friday night. I don't really count either of these teams out come playoff time, since their coaches are clearly watching their stars' minutes in this breakneck season. This will be a testy and telling matchup.


Friday: Indiana Pacers at Memphis Grizzlies (5:00 PM PST)


So, Andrew Bynum's the All-Star starter for the Western Conference in two weeks (two weeks???). Who's gonna back him up? It's gotta be Brother Marc. The younger Gasol has had a magnificent season for the Grizzlies. 15 points, 10 rebounds and 2 blocks per game, on 50% shooting. He and Rudy Gay are the primary reasons the Grizzlies are still in playoff contention after the loss of All-Star forward Zach Randolph. His primary competition is probably Nene, but I argue that Gasol is far more important for his team than Nene. Friday, he'll be facing off against two guys who are pretty good: Roy Hibbert and David West, both of whom have had all-star caliber seasons for the strong Indiana Pacers.


Saturday: Portland Trailblazers at Dallas Mavericks (5:30 PM PST)
Now officially showing his age: Jason Kidd.
Kidd, who's been out since January 28th with a strained calf, is averaging career lows in every statistical category. Most distressingly, while his assists have dipped by about four total per game, his turnover numbers have remained the same (roughly two per game). This, my friends, may be the beginning of the end.
Sunday: Chicago Bulls at Boston Celtics (12:30 PM PST)


The Sunday ABC game which fills the football void promises to be a good one. The Celtics will be coming off of a (presumable) win against the hapless Craptors, and will be welcoming former associate head coach Tom Thibodeau, and his dominant Chicago Bulls squad back into the house. I have a hunch that the Celtics have been thinking about this game for awhile -- Joakim Noah and Kevin Garnett have some history, and Rondo and Rose make for primetime television. Who needs football, anyways?